GEO vol. II, #6: Inter-cooperation is Key!
*For GEO Blog Updates, scroll down below!*
Weaving the Fabric of Solidarity Economies: Examples from across the Americas
The theme for this issue is inter-cooperation - between cooperatives and between cooperatives and other institutions.
Cooperative Economies & Economic Struggle in Latin America
Intercooperation in the U.S.
Cooperative Theory
Calls to Action
Get involved with GEO! If you have articles, pictures, or graphics on worker cooperatives and solidarity economics that you'd like to contribute, we want to hear from you.
GEO 6, vol. 2 - December, 2010 
Photo courtesy of Equal Exchange
Permanent link to this article: http://geo.coop/node/594
Log in to post comments

4972 reads
Support GEO - Buy Printed Copies of Back Issues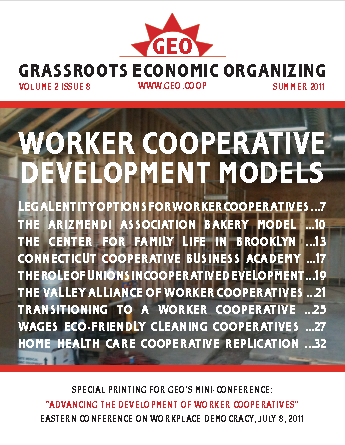 GEO is a volunteer-run collective and relies on your generosity.  We make our content free but also sell printed back issues in our store - each full of of grassroots documentation from activists and innovators.  
The trailblazing GEO 8: Worker Cooperative Development Models is available in a special printed 36-page magazine format.  Buy it in our online store, or contact GEO for bulk purchases or resale. 
All purchases help fund GEO, a volunteer-run collective project of the Ecological Democracy Institute of North America.